Here is some fundamental stuff that you need to understand about fire ratings and warning systems. Understanding these things will help you make the best choices when a bush fire is reported near you.
Before a fire even starts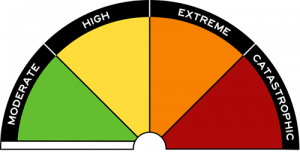 Monitor the Fire Danger Rating daily at www.rfs.nsw.gov.au/fdr. The higher the fire danger rating, the more dangerous, erratic and difficult to control a fire is likely to be.
The Fire Danger Ratings were changed in September 2022. Take the time to yourself with the new ratings and what they mean.
MODERATE Plan and prepare
HIGH Be ready to act
EXTREME Take action now to protect your life and property
CATASTROPHIC For your survival, leave bush fire risk areas
Typically the higher the rating is, the higher the temperature, higher the wind speed and lower the humidity. If you can hang out wet sheets and towels and they are dry in an hour, chances are the fire weather conditions are high or worse.
If there is a fire in your area:
1. Check the Fire Danger Rating
When it's MODERATE you should review your plan and prepare. Why not run through your Ignition Mission checklist?
When it's HIGH you should only stay if your home is well prepared and you're ready to defend it.
At EXTREME, only plan to stay if your home is prepared to the very highest level and is specially built to survive a bush fire.
CATASTROPHIC is as bad as it gets – no homes are built to withstand a fire in these conditions. Leaving early is your only safe option.
2. Monitor the Bush Fire Alert Levels in your area
You need to know the Bushfire Alert Levels so you know what to do. You will find the alert level for a fire on the Fires Near Me app (Apple or Android), listed in current fires on the NSW RFS website, or via emergency updates on radio, TV or social media. You need to keep track of the alert level because they can change at any time.
ADVICE Shows the location of a fire or incident while it is being monitored. The risk from this fire at this time is considered low.
WATCH AND ACT Indicates and increased risk and that it's time for you to take action in response to the threat. Look/ listen for updates and changes in conditions. If you haven't already, you will need to follow your stay or go planning.
EMERGENCY WARNING will be put in place when there is an imminent threat to people in the path of a fire. Immediate action is required for your safety. If it is still safe to evacuate you need to get out of the path of the fire or seek shelter if instructed to do so.
Tip: During a bush fire it is common for an electricity blackout to occur. This means that internet and NBN will go offline. A AM/FM radio that doesn't require mains power will be your best friend! Buy a battery or hand crank radio today
Emergency Alerts by SMS text message
You do not need to register to receive emergency alerts. Alerts may be sent based on your current location, or your billing address registered with your phone provider. You may also receive a phone message to your landline.
If you receive one of these heed the advice in the message and consider what it means for your Fire Plan. It might be time to leave, or it might be too late.
It is important that you don't wait for a warning. Use a range of channels, including the RFS website, Fires Near Me app, reputable social media, local media and ABC Local Radio to source information.
What to do next
The more you plan, the less panic you will experience during an emergency.
Over the past few years we have seen many examples of fires moving too quickly for people to safely evacuate or delays or failures in the emergency messaging systems, as the demand outstrips our telecommunications networks capacity. In times of crisis, you can not be assured the usual comforts. The power can go out, the phone networks can be clogged.
Plan to get your information from multiple sources and be prepared. And never underestimate the simple act of just looking outside. Know and understand the conditions, weather information, and act accordingly.
Identify safe places in your neighbourhood and multiple ways to get there.
If leaving is no longer safe, identify safe places you can shelter wherever you spend your time. Do as much as you can to help your household look after itself regardless if you had planned to defend or not – head over to the Yard Blitz Activity to see the simple things everyone should do.
Be aware of the risks and plan for them.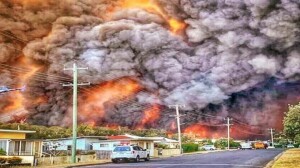 A significant quote from the 2019-20 season was, "It's not safe to do nothing, you must leave or actively defend." Waiting and seeing will only result in you having less time to take action.
If you have more questions or are not sure what the Fire Danger Ratings mean for you and your home,  send us a message. We are more than happy to talk you through your plan.